Explore Coed y Brenin
by mountain bike
Coed y Brenin is the UK's original trail centre and has for over 30 years been offering riders the chance to experience world-class mountain bike trails in the beautiful surroundings of Southern Snowdonia. Why not rent a bike from Beics Brenin and have a fun day exploring the forest park.
The centre has a vast network or graded and waymarked trails with trails for all abilities, a dedicated skills area, purpose built visitor centre with cafe, changing and showers alongside a host of other activities on offer including walking & running trails and a children's play area.

Book Online
Our hire centre can be busy so we always advise booking ahead to avoid disappointment. You can select and book all of our hire bikes online.
Hire Duration (day or 3hr)
We offer two options, day hire which runs from 9am to 4pm, or 3hr hire which can be any 3 consecutive hours during the day hire period (9am-4pm). All hire bikes must be returned by 4pm. Our hire fleet is offered for use on Coed y Brenin's trail network only, we do not offer off-site rental and bikes must remain within the Coed y Brenin trail network.
Bikes are available to book online via our website, you will need to know the height of each rider (for sizing) and in the case full-suspension and e-bikes, also rider weight, as this is used for correct suspension set-up. An optional accidental damage waiver can also be added when booking which provides an additional insurance agains any costs that would otherwise be due if any accidental damaged was sustained to a bike during the period of rental.
Please remember to bring your ID and helmet (if using your own) to collect your bike.
Type
3 hour
Day (9-4)
Add waiver
Balance Bike
£5
£10
£3
Kids 16"
£5
£10
£3
Kids 20"
£8
£12
£3
Kids 24"
£9
£15
£3
Under 16yrs Hardtail MTB
£25
£30
£3
Hardtail MTB
£30
£37
£3
Full Suspension
£48
£55
£4

E Bike 625Wh
E Bike 700Wh
£70
£80
£85
£95
£5
£5
*EBIKES PLEASE NOTE : Ebikes may not be ridden by anyone below the age of 14 years old under UK law.
**We offer bikes suitable for riders up to 17st 9lb (113kg), unfortunately we cannot cater for riders over this weight as our supplier manufacturers specify that their products will not be suitable.
On-the-day rental at counter is only possible when bikes are available and at times we can be very busy. We always advise booking well in advance to avoid disappointment. You can book online via our website 24hours a day, you'll need to know the heights of every rider (for bike sizing) and for full-suspension and ebikes also rider weights (for suspension set-up).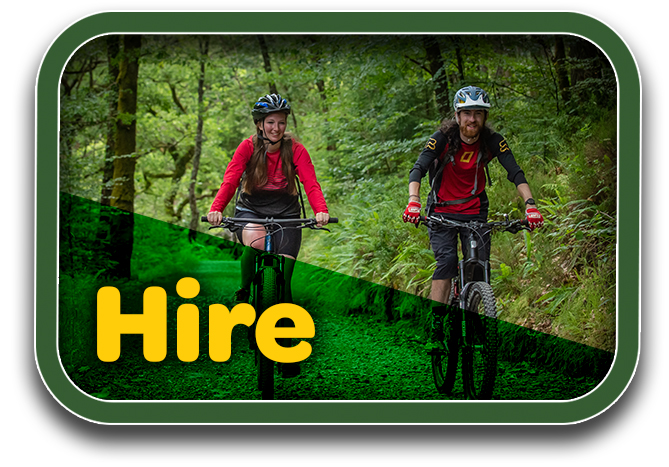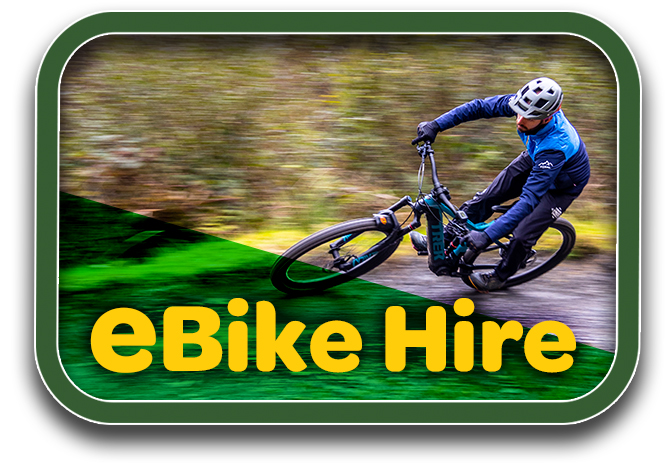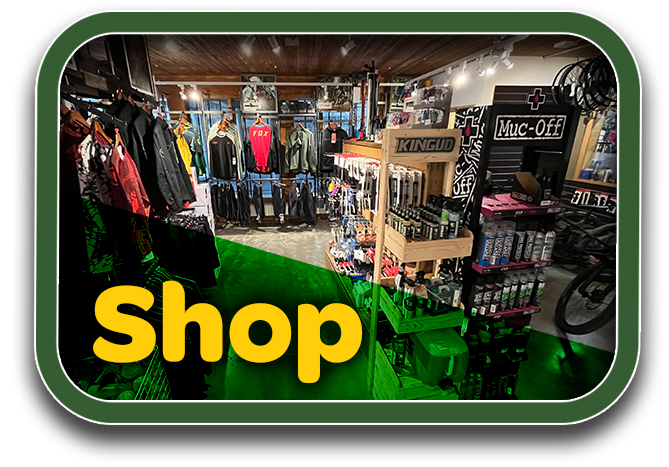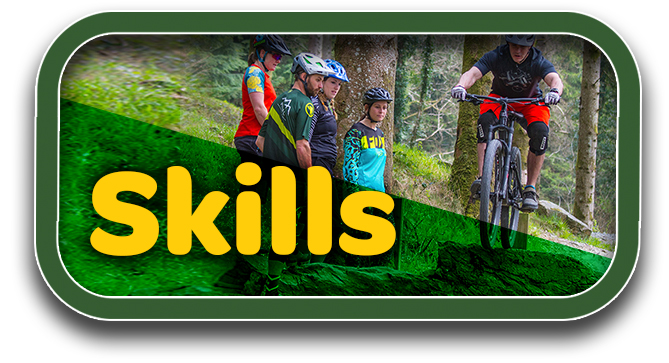 Hire Centre
Our hire centre has a large fleet of bikes ranging from hardtail mountain bikes perfect for both newcomers and seasoned riders to explore the forest, to full-suspension bikes and e-mountain bikes, ready to tackle tough terrain. There are kids bikes too and we offer an under 16 rate on our smaller adult size bikes to help encourage young riders out onto the trails.
Our specialist e-bike fleet comprises solidly specced full-suspension models from Trek and Specialized, perfect for making easy work of the tough climbing and descending of Coed y Brenin's more challenging routes.

Range
Hardtail - (Front suspension) Our standard hire bike is a quality Trek Hardtail model featuring dependable hydraulic disc brakes and a wide range of gears suitable for tackling steep climbs. Our hardtails are suitable for all the trails at Coed y Brenin but if you intend to take in the tougher reds and blacks you might enjoy the added comfort and performance of a full-suspension bike.
Full Suspension - (front and rear suspension) Our full suspension ebikes are the Trek Fuel EX model, Trek's popular trail allrounder is a great choice for Coed y Brenin being a bikes that both climbs and descends well. A great choice for tackling red and black graded trails.
E-Bike [EMTB] - (Full Suspension) Our e-bike fleet comprises Trek Rail (625Wh) and Specialized Turbo Levo (700Wh) models. These are top quality full-suspension emtb models with bags of power, great battery performance and sweet handling. The bikes are supplied with a full charge and will be ready-to-ride, tuned to rider weight settings supplied on booking. A great choice for those less fond of the hills or looking to enjoy the longer trails with a little battery-assisted support.
Kids - We have a range of quality kids mountain bikes and also offer under 16 rates on our smaller sized adult hardtail bikes to encourage younger riders out onto the trail.
NOTE: Pedals - All our bikes are supplied standard with flat pedals. SPD pedals are available to hire on any bike as an upgrade for a small additional rental charge.
Safety and Protection
Helmets - We can supply a loan helmet free-of-charge with all our hire bikes but most people who already own a suitable helmet will choose to bring their own. Helmets should display the CE mark and be EN1078 compliant. For those bringing their own bike who don't own a suitable helmet, helmets can be rented or we stock a good range of helmets from entry models to performance mtb lids in the shop.
Gloves - Gloves are a very personal item so we are unable to offer these for hire. However we strongly recommend their use as hands are usually the first thing to contact the ground in a fall. A comfortable pair of full finger gloves is advisable. You will find a good range of gloves on offer in Beics Brenin available to buy on the day or Click & Collect for pickup when you hire.
Pads - (knee and elbow protection) We do not currently hire protective pads but we do encourage the use of lightweight, trail friendly knee guards. Many manufacturers now offer models that are light and comfortable enough for all day riding and which offer a good degree of additional protection.
HIRE FAQs
What will I need?
Helmets are provided with every hire bike, although you are welcome to bring your own and we offer a discount on helmets purchased when hiring bikes. A photo ID (driving licence/passport) to be left with us for the duration of the hire. We recommend wearing trainers, sports clothing and dressing appropriate to the weather conditions. Gloves are available to purchase in store, they are worth bringing if you have them, especially on chilly days.
Do I need a helmet?
YES, DEFINITELY! Helmets are provided with every hire bike but you are welcome to bring your own. We also have helmets available to buy at a discounted rate when hiring bikes.
When can I pick my hire bike up?
We offer bike hire in 'full day' or '3 hour' hire periods. Our full day hire period runs 9.00am to 4pm. Our 3 hour hire period can be any 3 hours falling entirely within this period. Bikes may be collected at any time but ALL BIKES MUST BE RETURNED BY 4PM. Multi day hires – bikes must be returned by 4pm each day. OUR BIKES ARE HIRED FOR USE AT COED Y BRENIN FOREST PARK ONLY
Can I turn up on the day?
Yes, but we cannot guarantee that there will be anything available. We definitely recommend that you book in advance for weekends and holidays.
How old do I have to be to ride an electric bike?
Can I fit a child seat to the hire bike?
We do not permit the fitting of child seats, child trailers or 'tag-along' style children's trailer bikes to any of our hire bikes. These items are not suited to use on many of the trails at Coed y Brenin. The fitting of stabilisers to our children's hire bikes is also prohibited.
Is it suitable for me?
This is proper mountain biking, with a lot of ascent, and variable weather conditions. The simplest route marked out in the forest is the Yr Afon Trail, which is largely on surfaced forest roads. Although it still includes 100m of ascent, so some degree of fitness is required.
Is there any mobile reception in the forest?
There is very little reception around the forest. When it is present, it is very unreliable, so we recommend that you don't rely on it.
If I break my hire bike, do I have to pay for it?
The simple answer is yes. It is the hire person/s total responsibility for the safe custody and return of the bicycle, against any loss/damage howsoever caused, during the specific period of hire. Any damages incurred while the hired goods are in the care of the hirer must be paid. We do offer an non refundable optional damage waiver which will cover any accidental damage. We provide a small tool pack containing a pump, tyre levers and a tube with each hire but you do need to have the ability to use it as there is no 'breakdown service' available out on the trail. (Add link to tube change) A faulty bike must be returned within 30 minutes of hire. After this, no refunds can be given.
Can I cancel or move my booking?
Bookings may be cancelled up to 30 days in advance of the booking date and a full refund, store credit or alternative booking date will be offered.

Bookings cancelled at 30 days to 14 days from their booking date are offered the opportunity to re-book on another date or may instead take a store credit to the value of the booking. The store credit can be used against any goods or services offered by Beics Brenin. This store credit must be used within 12 months of the original hire booking date.

When a booking is cancelled inside of the 14 days prior to the booking no refund, re-booking date or store credit alternative is offered.