Ebike(EMTB) at Coed y Brenin
Jump to: Our Bikes>> Ebike Hire FAQs>>
With mile upon mile of world class trails to explore, Coed y Brenin is the perfect location to put a modern EMTB through its paces. The forest park has trails for all ability levels, from simple tracks that meander through Coed y Brenin's majestic forest to purpose built MTB trails with challenging rocky trail descents and fast flowing singletrack sections. Trails are all graded by their technical challenge so its easy to pick a trail that matches your fitness and ability level. All the trails at Coed y Brenin are suitable to be ridden on a good quality EMTB and all the EMTBs that Beics Brenin hire are perfectly capable of holding their own on Coed y Brenin's toughest trails.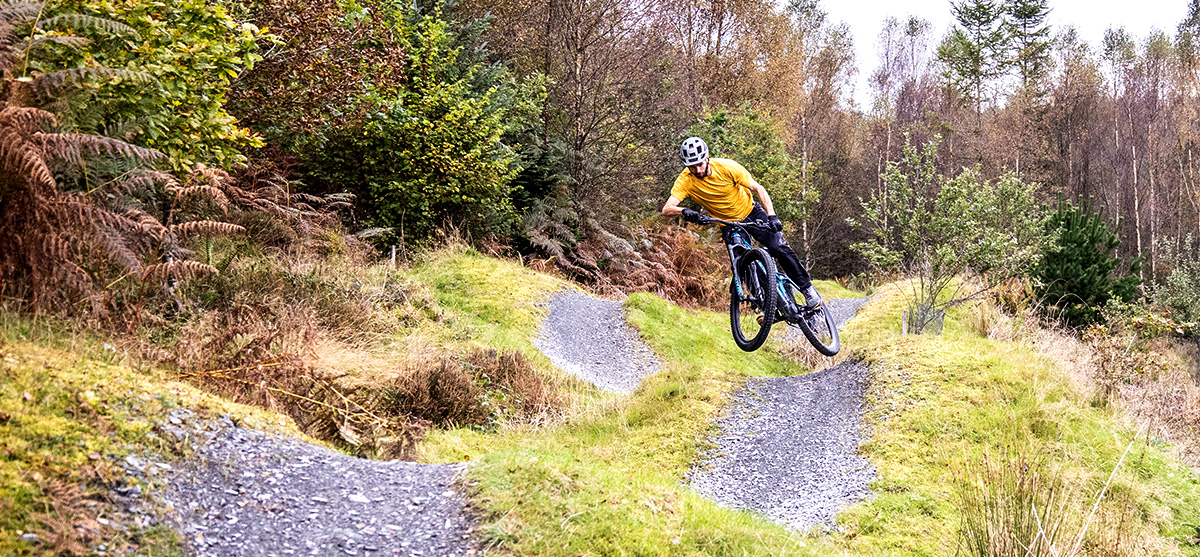 Coed y Brenin's trail network has a long heritage and many riders got their first taste of trail centre riding here. Epic challenges like the 'The Beast' have been shaping riders journey through the sport for many years with many riders earning their MTB wings on Coed y Brenin's rocky trails. Now these MTB classics are being revisited on an EMTB, with these new bikes opening up a new possibilities to explore and the terrain in new ways. With hills becoming light work, or even delivering thrills on a par with the descents, there are plenty of opportunities to play and find new challenges in every route.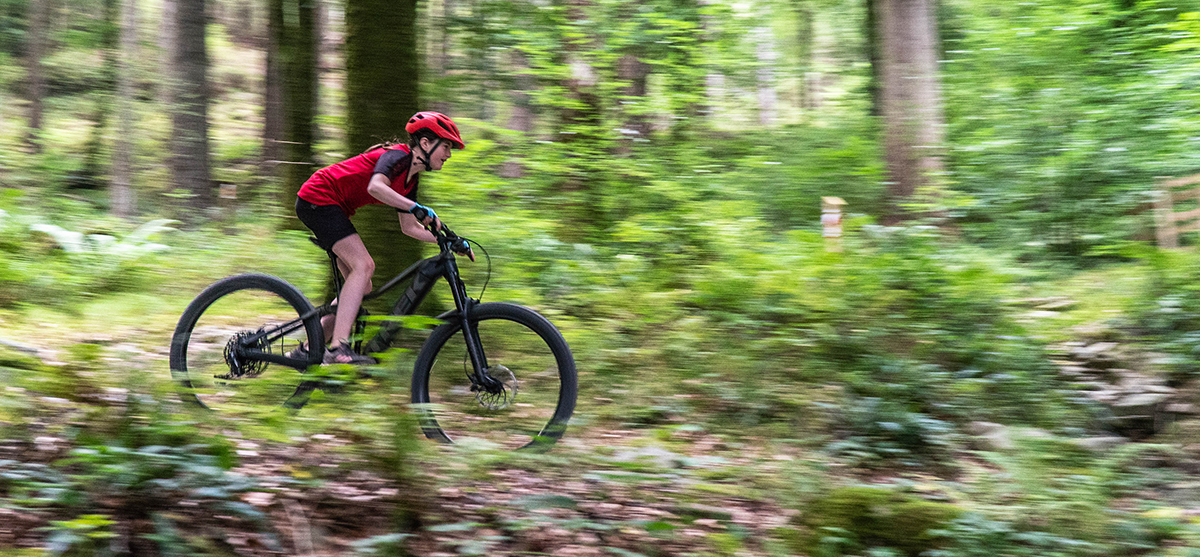 Hire Bikes
Our hire fleet comprises bikes from the worlds 2 best known bike brands, Trek and Specialized. These manufacturers have pioneered some of the worlds finest EMTB tech, ensuring our hire fleet represents nothing less than the best EMTB experience today. You can choose from the raw power of Trek's Rail or Specialized's Turbo Levo, or opt for the lightness and agility of a Specialized Turbo Levo SL with its slight form, compact motor and power unit (don't be deceived by the numbers, in the right hands this bike is the most stealthy of trail weapons!).
PLEASE NOTE ** We update our bikes regularly. Model Year/Type of hire bikes may vary from those shown on this page.
---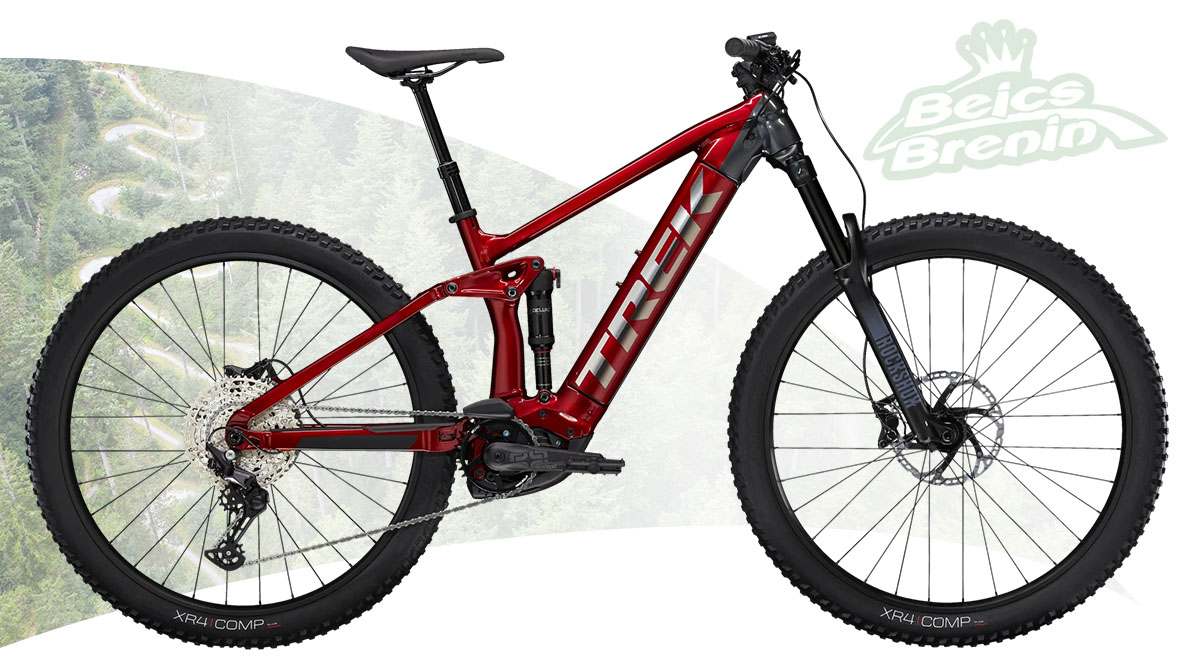 Trek Rail
The Trek Rail has a burly alloy frame with 150 mm of rear travel and a 625 Wh battery, an e-MTB optimised 160 mm RockShox 35 Gold RL fork, the latest from Bosch system Performance Line CX capable of speeds up to 25 km/h. Plus, a 1x12 drive train with a wide gear range so you can always find the ideal cadence for the motor, a dropper post, powerful 4-piston brakes for more downhill confidence and 29er wheels with nimble yet grippy 2.6" tyres.
• Travel Front – 160mm Fork (RockShox), Rear 150mm (RockShox Deluxe RL).
---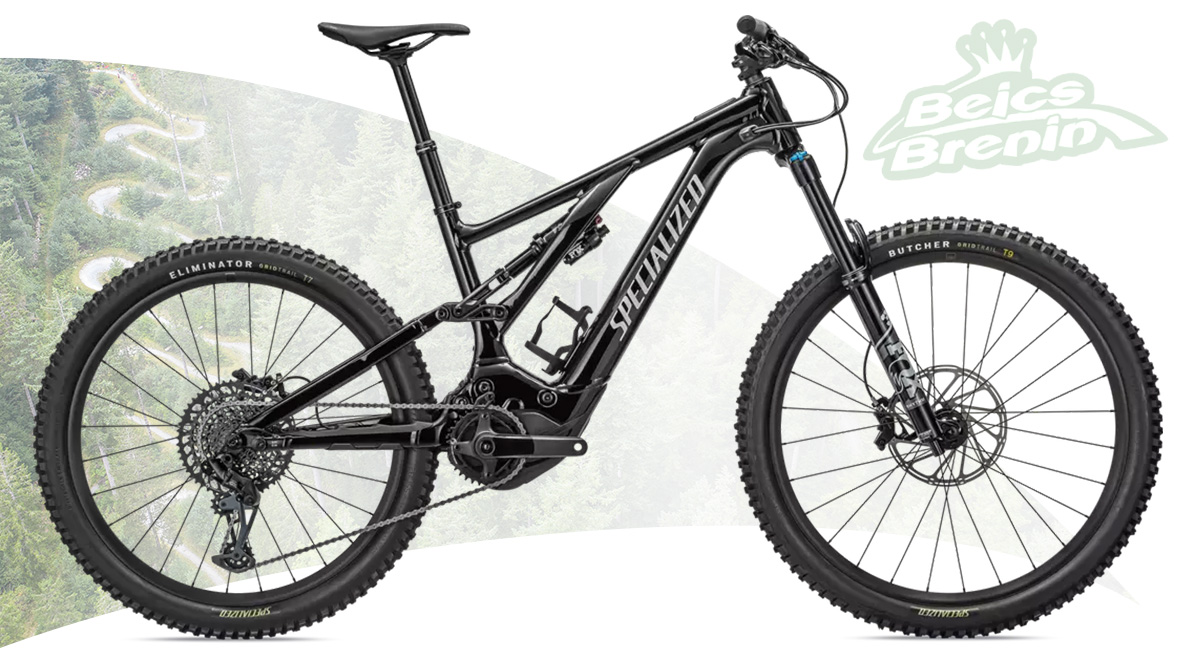 Specialized Turbo Levo (Comp)
Our Turbo Levo models feature Specialized's 2.2 motor and Turbo Connect Unit which provide the Levo with a super-smooth amplification of your pedal input (4x you power). The Levo's 150mm of custom-tuned rear delivers a stable and natural ride. M5 alloy chassis, SRAM's expansive GX Eagle 12-speed drivetrain, and of course, buttery smooth FOX Performance suspension.
Fully integrated Turbo Full Power 2.2 motor, 700Wh battery, and Turbo Connect Unit offering 90 Nm of torque and 565 watts of power for up to five hours of ride time.
A dedicated mixed-wheel size design, with a 27.5" wheel in the back and 29" up front delivers a nimble ride that carves circles around other full-power e-MTBs.
---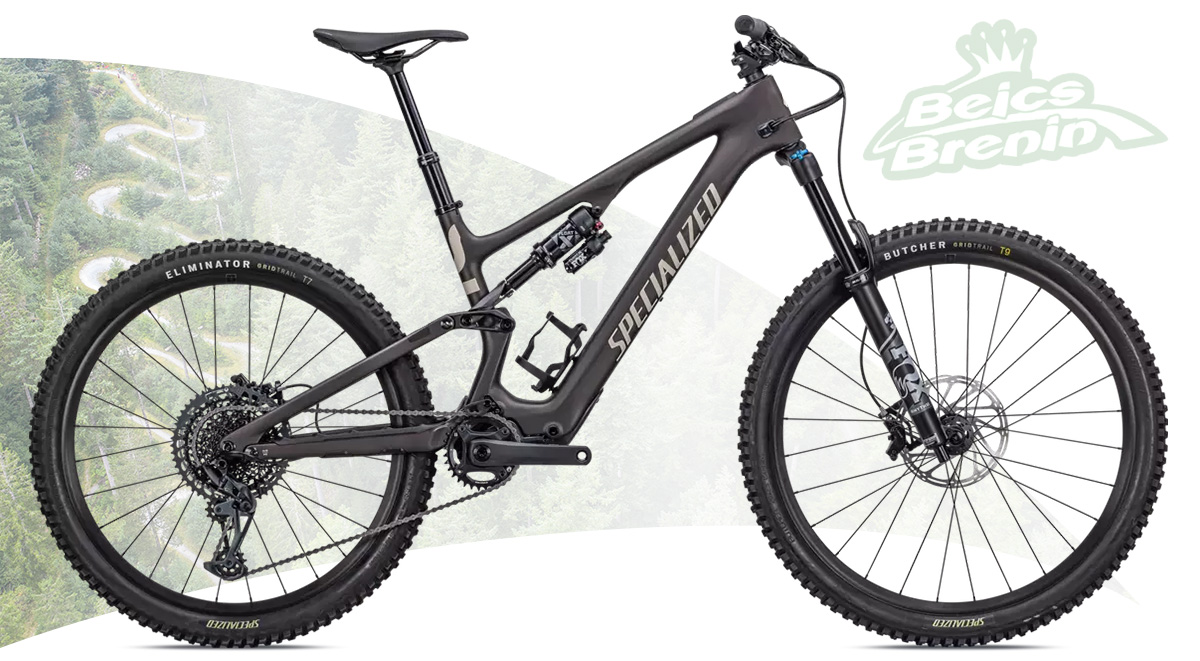 Specialized Turbo Levo SL 2 (Comp)
From May 5th 2023, the Gen 2 Levo SL. At it's launch the Levo SL broke new ground, offering a completely different concept of EMTB. With a scaled down, ligher and more compact motor and battery you could be forgiven for thinking it's a regular MTB until it blazes past you on the climbs. The Gen 2 SL introduces a bike that is even more agile in its handling whilst packing an even more powerful punch at the motor. You get the sweet handling trail capabilities with a rush of power assist when needed.
This is the bike to convert the naysayers, it handles with impeccable manners, a near silent motor and smooth power transitions. It offers ample range and with the range extender, enough to rival many regular EMTBs. For those seeking a little more precision than a regular EMTB like a Levo and Rails can offer, the Levo SL fits the bill.
Another dedicated mixed-wheel design, the Levo SL has 27.5" in the back and 29" up front.
Find out more about the newly launched Levo SL 2 HERE
---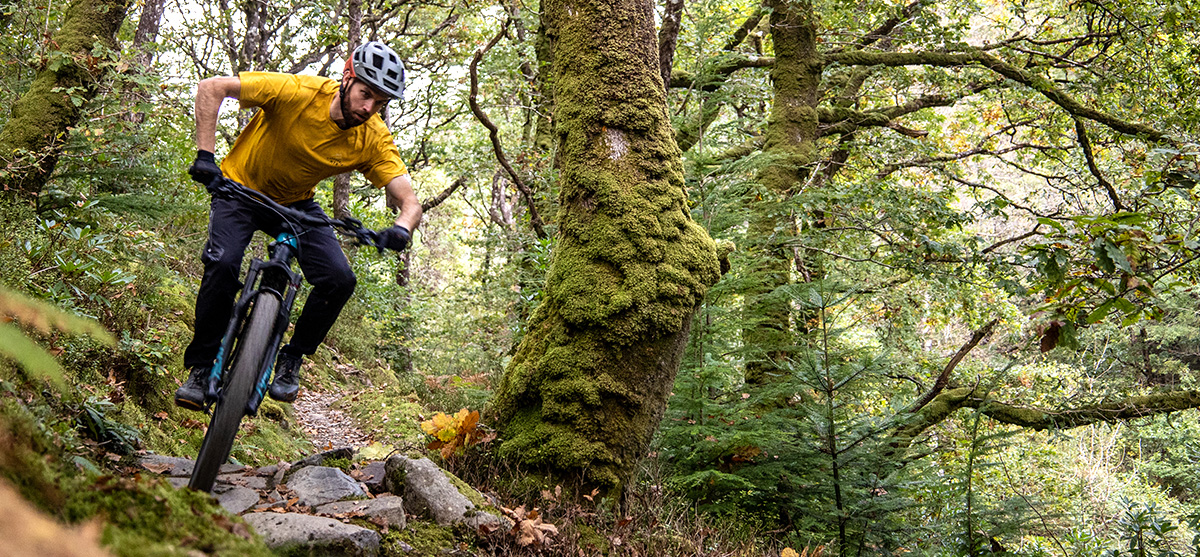 eBike Hire FAQ
How far can I ride?
We supply the bike with a fully charged battery and the distance you can ride on that charge is dependent on many factors including the level of assistance you choose, the gradient of the trail, the amount you input yourself (so your fitness level), your weight, your kit & clothing weight, tyre pressure, the trail surface you are riding on, tyre pressure, pedal cadence, the list goes on… Both Bosche and Specialized provide useful 'Range Calculators' to help you get an idea of what range can be expected but these will only ever provide a rough estimation. The Trek bikes offer a predicted 'range remaining' based on the calculations of the onboard computer and most people have found this to be a reliable guide.

You can find the Bosch Range Assistant HERE and the Turbo Range Calculator HERE

We provide a single full charge that if used sensibly will give most riders a full day of assistance. We do not offer top-up charges during the hire period.
---
Will you show me how to use the power assistance?
Will you show me how to use the power assistance? Yes. Our staff will run through the essentials of using the assisted bike. They will go through the power modes, visual display and walk assist (if applicable) and tell you what you can expect from your ride.
---
Are the bikes heavy?
These is additional weight from the e-motor and battery units and the bikes also need to be strengthened to cope with the additional loads so they are heavier than a non assisted MTB but because of the assistance once you are riding you don't notice the weight and they are well balanced so they handle much the same as a standard MTB. It can take a little time to adjust but most people acclimatise quickly.
---
How fast do they go?
In the UK, ebikes (known legally as motor assisted pedal cycles or Pedelecs) are restricted to 250 watts motor power or 15.5 mph. You can still travel faster but at greater speeds the motor will stop providing assistance.
---
Do you need to pedal?
The bikes do not have a throttle, instead they provide assistance to enhance any pedalling you do. Think of it this way, every time you make a pedal stroke the bike's motor will provide extra energy so your pedal strokes are amplified by the motor assistance, this can be anything up to around 400% of your input but greater assistance uses more battery power. The amount of assistance can be varied by a simple push button control on the handlebar which allows the rider to cycle through the available power assistance modes. Many riders describe riding a motor assist MTB as like having a constant strong tail wind, you often hear people say "hills disappear".
---
What is walk-assist?
Some of our bikes feature a walk assist, this is a feature designed to help move the bike up a steep incline when you are dismounted. With walk-assist engaged the bike will propel itself forward without any pedalling at a slow walking pace allowing the bike to be more easily walked up steep slopes.
---
Do the bikes have gears?
Yes. All our ebikes have gears like any normal mountain bike and these are used together with the power assistance level control to manage the pedal input required to achieve the desired propulsion. The assistance level is controlled by a simple "+/-" button on the bars that will cycle through the available modes/levels of assistance.
---
What if I run out of charge?
We give you a full charge and this lasts most people for their whole ride. However, the time & distance a charge will last is dependent on many factors (see 'How far can I ride?' above). The bikes show remaining charge available and some will give a predicted range remaining. Once the charge is exhausted the bike will continue to function as a regular mountain bike would although without providing any pedal assistance so it is possible to get home although it is likely that riding will feel a lot more challenging. We advise everyone to be mindful of the route they are attempting and monitor battery use throughout their ride, in this way it is possible to make sure that you have power to complete your ride in comfort. If you are concerned about running out of charge we advise you take on several smaller routes rather than one of the longer ones at Coed y Brenin, some of which are 30+ km and can take you far away from the visitor centre.