Our Hire Bikes
We are often asked why our hire prices are a little more expensive than the bike rental prices you find elsewhere. The answer is pretty simple, all our hire bikes need to be tough enough to take on the toughest of the trails at Coed y Brenin. So while many recreational bikes are perfectly suited for a relaxed tootle down the beautifully flat Mawddach Trail , day in/day out use on the tough and rocky trails of Coed y Brenin requires a bike that is built to last. There are of course a range of trails available at Coed y Brenin from the very easy to some extremely rocky and technically demanding ones, but we need to make sure that every bike we offer is capable of taking on the toughest of the tough as we have no idea where each hire is headed.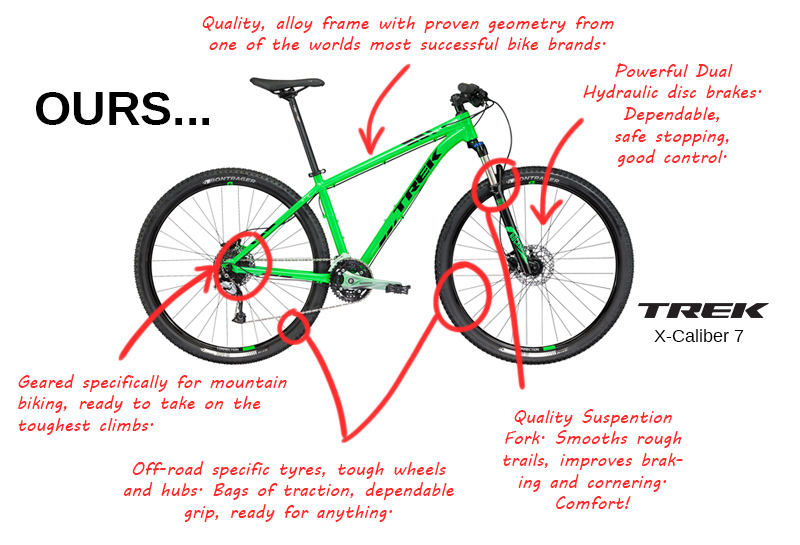 Apples vs Oranges.
You'll also find that while many bikes may look similar, the devil is very much in the detail. Build quality, frame geometry and component selection are all vitally important to the way a bike performs on the trail. Take for example front suspension forks. A good one will enhance not only rider comfort but increase ground contact time for the front wheel which in turn means improved braking and cornering (your brakes and steering only work if your wheels are touching the ground) with the bike handle much better and being safer to ride. More traction and control of course also mean more fun on the trails. The flip side is that a poor quality suspension fork can actually be worse than a rigid fork, springs with no damping are akin to strapping on a pogo stick with your bike springing back every time you hit a bump on the trail and more likely to soon send you over the bars than keep you glued to the trail.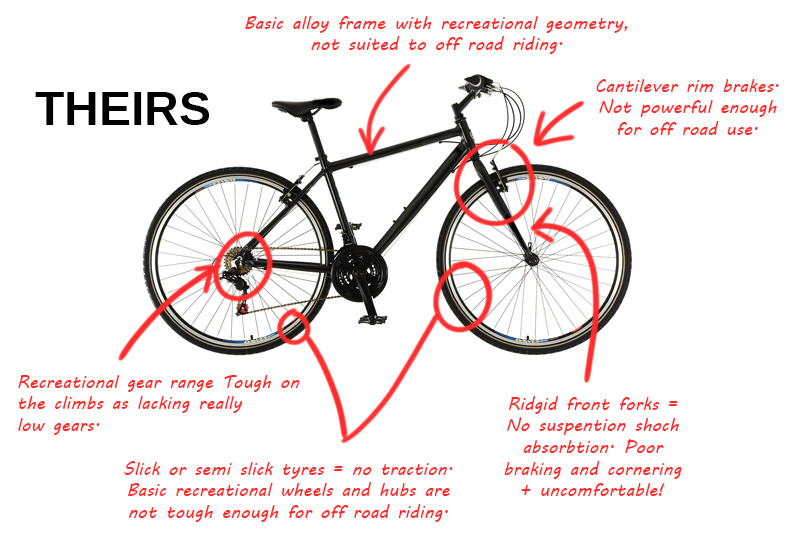 Brakes have also come a long way. Modern MTB disc brakes as you'll find on our hire fleet move the braking surface away from the wheel's structural component (the wheel rim) and onto the hub. The braking surface doesn't get dragged through every muddy puddle and they offer consistent, dependable and controlled stopping across a range of trail conditions. Gears too are more consistent, simpler and offer a good wide range with some really low gears for those particularly tricky and steep climbs.
Get the right tool for the job BOOK ONLINE NOW
---
Hire Fleet
We offer a range of Trek bikes for hire at Coed y Brenin from basic kids MTB's up to premium performance full suspension and ebike models, all fully featured and ready to take on Coed y Brenin's toughest trails. Our bikes benefit from Trek's unique heritage as one of mountain biking's oldest, most widely respected and successful brands. Trek have built bikes for many World Champions and they ensure this technology feeds down into even their most basic offering, always innovating improving the ride.
It's one thing to start with a great bike but you also need to ensure that bike is well maintained and cared for. After every hire our bikes undergo a thorough cleaning than a full, multi-point service and safety check to ensure that every customer gets the same great hire experience as the last. We check gear function, tyres, brakes and wheels and that all essential bolts are set correctly. The bikes are then properly lubricated and stored in our safe, dry and secure indoor heated storage ready for their next outing. That's better than most people's own bikes get.
In addition to this we change our bikes regularly, usually with bikes doing only around 30 hires. We do this for a number of reasons, firstly in ensures our fleet is always up to date current bike models, giving our customers the best possible ride experience and our mechanics an easier job in each service. It also means we can pass on a bike that's in tip-top shape with bags of life left in it.

Premium Full Suspension & ebikes
At the premium end of our hire fleet you will find performance full suspension bikes and ebikes. These bikes come with a much higher purchase cost and much higher associated running and service costs. In addition to the service jobs we need to perform on a hardtail you can add checking of multi-pivot suspension and shock mountain hardware, dropper posts, often tricky internal cable routing and for the the case of ebikes, all the added complications of motors, control units and batteries into the deal. The standard hardtail bike we currently use, a Trek X-Caliber 7 retails at £650 and costs £30 per day to hire, our premium ebike is a Trek Powerfly FS 7 Plus that retails at £4300 and can be hired for £85 per day. While the ebike may initially seem expensive and a big jump up in terms of the hire price, when you take into account that the ebike costs over 6 times the price of the hardtail and then factoring in the significant additional running, service and care costs of the ebike, it actually represents extremely good value.
Extras not Add-on's
Helmet hire is included in all our hire price. We also supply all our hire bikes with a small pack (think bum-bag) with everything you'll need to fix a puncture. (Sadly punctures still remain an unfortunate fact-of-life for off-road riding). So in the unfortunate event that you experience a puncture while riding, you'll be ready with a spare inner tube, pump and tyre levers.
Booking online
There's no additional booking fee if you book online via our website. You can check the availability of bikes and make a booking 24hrs a day.
Get the right tool for the job BOOK ONLINE NOW